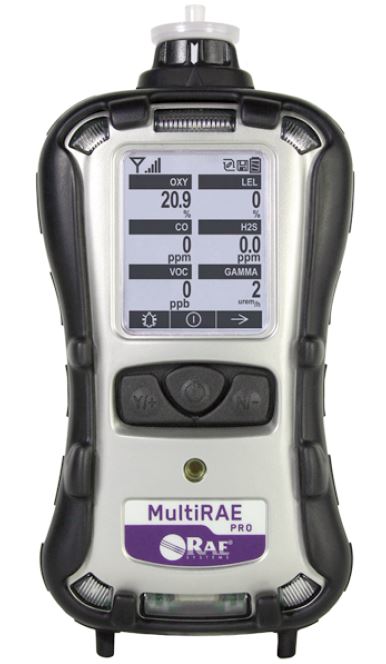 MultiRAE Pro
The MultiRAE Pro is the industry's only portable wireless multi-threat monitor. The MultiRAE Pro's ability to simultaneously detect gamma radiation and toxic industrial chemicals (TICs/TIMs) enables responders to reduce the equipment footprint and achieve greater agility when operating downrange.
List of Benefits
All-in-one monitoring capabilities for radiation,VOCs, oxygen, toxic and combustible gases, up to 6 threat types at a time
Over 25 interchangeable sensor options, including parts-per-billion PID and gamma radiation
Wireless access to real-time instrument readings and alarm status from any location
Unmistakable five-way local and remote wireless notification of alarm conditions
Intelligent sensors store calibration data, so they can be swapped in the field
Large graphical display with easy-to-use, icon-driven user interface
Wireless. Versatile. Proven.
The MultiRAE Pro's optional wireless capability improves safety by providing commanders and safety officers real-time access to instrument readings and alarm status from any location1 for better situational awareness and faster incident response.
Applications
Civil defense (search and rescue)
Homeland security
HazMat response
Military (CBRNE detection, EOD)
Semiconductor manufacturing
Environmental
Specification
Detail Description
Size
7.6" H x 3.8" W x 2.6" D (193 x 96.5 x 66 mm)
Weight
31 oz (880 g)
Sensors
Over 25 intelligent interchangeable field-replaceable sensors including gamma radiation, ppb and ppm PID sensors for VOCs, electrochemical sensors for toxic gases and oxygen, combustible LEL and NDIR sensors, and CO2 NDIR sensor
Battery Options, Runtime5 & Recharge Time
- Rechargeable Li-ion (~12-hr. runtime, < 6-hr. recharge time) - Extended duration Li-ion (~18-hr. runtime, < 9-hr. recharge time) - Alkaline adapter with 4 x AA batteries (~6-hr. runtime)
Display
- Monochrome graphical LCD display (128 x 160) with backlighting - Automatic screen "flip" feature
Display Readout
Real-time reading of gas concentrations; PID measurement gas and correction factor; Man Down Alarm on/off; visual compliance indicator; battery status; datalogging on/off; wireless on/off and reception quality. - STEL, TWA, peak, and minimum values
Keypad Buttons
3 operation and programming keys (Mode, Y/+, and N/-)
Sampling
Built-in pump. Average flow rate
Calibration
Automatic with AutoRAE 2 Test and Calibration System or manual
Alarms
Wireless remote alarm notification; multi-tone audible (95 dB @ 30 cm), vibration, visible (flashing bright red LEDs), and on-screen indication of alarm conditions - Man Down Alarm with pre-alarm and real-time remote wireless notification
Datalogging
Continuous datalogging (6 months for 5 sensors at 1-minute intervals, 24/7) - User-configurable datalogging intervals (from 1 to 3,600 seconds)
Communication and Data Download
- Data download and instrument set-up and upgrades on PC via desktop charging and PC comm. cradle, travel charger, or AutoRAE 2 Automatic Test and Calibration System - Wireless data and alarm status transmission via built-in RF modem (optional)
Wireless Network
ProRAE Guardian Real-Time Wireless Safety System or EchoView Host-based Closed-Loop System
Wireless Frequency
ISM license-free bands
Wireless Range (Typical)
MultiRAE Pro to RAELink3 [Z1] Mesh modem ~330 feet (100 meters) MultiRAE Pro to EchoView Host, RAEMesh Reader or RAEPoint ~660 feet (200 meters)
Operating Temperature
-4° to 122°F (-20° to 50°C)
Humidity
0% to 95% relative humidity (non-condensing)
Dust and Water Resistance
IP-65 ingress protection rating
Hazardous Location ApprovalsCSA
Class I, Division 1, Groups A, B, C and D, T4. ATEX
Performance TestsMIL-STD-810G and 461F compliant. LEL CSA C22.2 No. 152; ISA-12.13.01
Languages
Arabic, Chinese, Czech, Danish, Dutch, English, French, German, Indonesian, Italian, Japanese, Korean, Norwegian, Polish, Portuguese, Russian, Spanish, Swedish, and Turkish
Warranty
2 years on non-consumable components and catalytic LEL, CO, H2S, and O2 sensors - 1 year on all other sensors, pump, battery, and other consumable parts