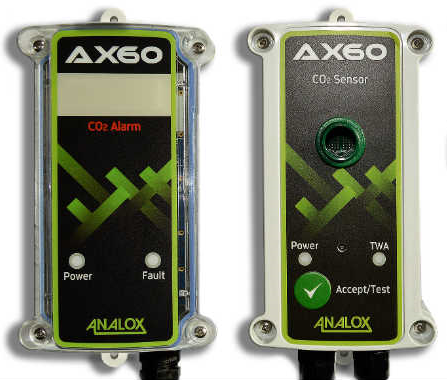 Ax60K
The Ax60K is a CO2 monitor and alarm specifically designed by Analox to alert personnel of a buildup of CO2 in a small space or kiosk using a state-of-the-art infrared sensor.
List of Benefits
Low maintenance
Quick Connect System
Pre-wired, ready to go
Can support up to 4 alarm units
Push button for unit testing
Provides safety and security in a small package
The CO2 alarm has a high visibility flashing strobe light and a high volume sounder
The power supply unit (PSU) supplies 24V DC power to the CO2 sensor
Carbon dioxide (CO2) is stored and used in fast food kiosks for the carbonation and dispense of beverages. CO2 is a toxic gas that is colourless and odourless and not detected by human senses. Relatively small volumes can cause serious health risks to employees if it were to leak and build up in a confined space.
There is a danger to health wherever pressurised or concentrated CO2 is stored or used. The alarm provides both audio and visual alerts in the case of increased levels of CO2. Extra alarms can be added as needed if there are several points of detection. The best part? The unit does not require periodic calibration saving you money and ensuring ease in management.
The sensor should be installed at around 450mm / 18inches above the floor as CO2 is heavier than air and can pool at low levels. The alarm should be located above the sensor at around working head height (between 1800mm and 1950mm – 70 and 76 inches) or at the entrance to the kiosk to warn personnel of the CO2 status before entering the confined space.
Specification
Detail Description
CO2 Sensor
Size
17.1 x 17 x 4.6 cm / 2.8 x 6.7 x 1.8 in.
Gas Detected
Carbon Dioxide (CO2)
Measurement technique
Infrared
Range
0.1% to 5%
Alarm Set points
0.5% ( 8 hr TWA ), 1.5%, 3.0%
Warm up time
40 seconds
Resolution
0.01%
Accuracy
±2.5% of the alarm levels
Response time
30 seconds to T90
IP Rating
IP55
LED Indicators
Green = Power
CO2 Alarm
Strobe White LED strobe – 100cd (Optional red or blue filter)
Sounder
Min 80 dBA @ 3m (9.8ft)
IP Rating
IP55
LED Indicators
Green = Power, Amber = Fault
Cable
2m included