The flagship of Gastech's operation is its extensive service capabilities which revolve around its service centres. These are based in both Western Australia and New South Wales which conduct on average 17,000 services a year combined. These service departments provide full maintenance, calibration and repair of your gas detectors. It is important that your instruments receive regular maintenance and calibration to ensure they are operating correctly, producing accurate and reliable results. At Gastech we don't only service our own detectors we also service many other manufacturers detectors.
Our team of experienced service technicians ensure that products are repaired and calibrated to manufacturers specifications in accordance with relevant Australian Standards. Where additional repairs are required, a quote is submitted for approval. This team of technicians is available for onsite service work all around the world on land and sea.
Our workshops in Perth and in Sydney have a comprehensive range of NATA and NIST certified calibration gases on hand to calibrate almost every type of gas detector. A unique advantage our service department has is the ability to generate our own calibration gases on demand, to overcome the inaccuracies of reactive toxic gases supplied in cylinders. Some of the gases we generate using permeation methods are Ammonia (NH3), Hydrogen Cyanide (HCN), Sulfur Dioxide (SO2), Nitrogen Dioxide (NO2) and Chlorine (CL2). During the calibration process we use individual gases as well as multiple gas blends to adjust for any cross interference factors in the instruments. This process is something that the automatic calibration docking stations cannot perform.
To assist with fault diagnosis Gastech Western Australia utilises an environmental chamber. This facility give us the ability to recreate the environmental conditions the instrument is being used in for parameters such as temperature and humidity to help stress test it. Our engineers also use this for soak testing our own products during the development process.
Service Booking Options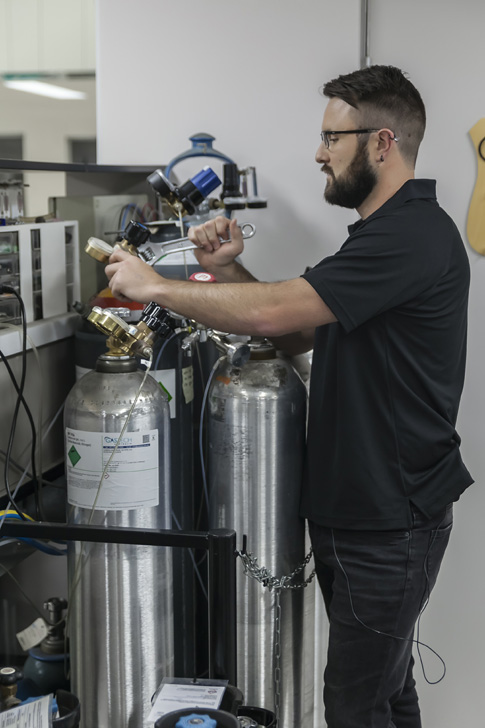 High Quality Calibration Gases
---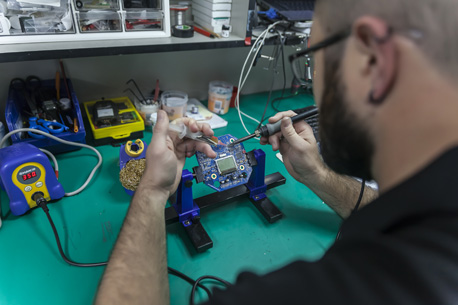 Your Calibration Certificate
Gastech's calibration certificate is amongst the most detailed in the industry. An example below highlights the immense amount of information that is found in one including:
Instrument condition on arrival and departure
Summary of functional tests
Complete cell details such as date of fitment, alarm levels and cell number (ensuring swapped sensors are tracked)
Span gas details such as lot numbers and concentrations
---
Turn Around Time
We strive to offer the fastest turnaround for servicing and repairs of instruments sent in. To do this we hold one of Australia's largest stocks of spare parts for all the instruments we supply as well as an extensive stock of parts for a large variety of makes and models. Our major suppliers are linked into our computer systems and stock control systems where they can manage our stock levels to the service department to continue to run efficiently and supply our customers the fastest turnaround possible. In situations where customers need equipment serviced urgently they can utilise our Queue Jumper system. For a small additional cost per unit the instrument has its priority elevated to the next available technician. This usually sees instruments arriving and leaving Gastech within 48hours assuming part availability.
Gastech has a unique in house designed data base system which tracks each and every unit we service, including all the parts and sensor cells we might fit during the service. All of this information is readily available to customers wanting to manage their instruments. Our Systems are regularly audited by BVQI, RAN, and TestSafe Australia, to comply with Australian Defense Forces, and international standards.
What happens during a service?
From the moment your instruments arrive they are logged into our database and you are given a link to track the progress of the file via our G-Track system. When ready a service technician grabs your instrument and scans it out to themselves so the technician and their work is tracked electronically.
The instrument is response checked, then stripped down, assessed and a quote produced for repair works or service. Once the quote is approved the work is completed and the instrument calibrated and cleaned. All parts used are scanned onto the file electronically. This linking system gives us the ability to easily trace instruments for any product or part recalls that may take place. The unit is then packaged up and dispatched. Our automated system notifies you of the closure of the file and includes all file updates, con note number and courier details. The instrument is then logged with G-Manager to notify you one month in advance of when it is next due for service. These systems are regularly audited by BVQI, RAN, and TestSafe Australia, to comply with Australian Navy, and international standards.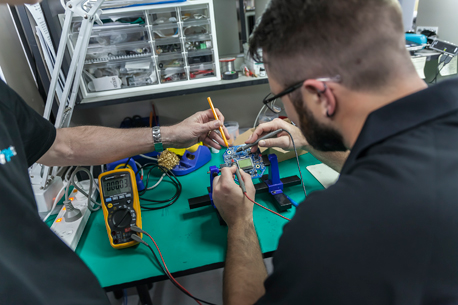 Factory-Trained Team of Technicians