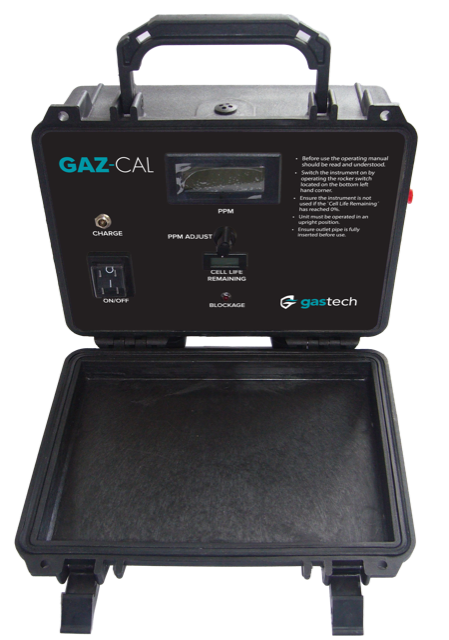 GazCal
Some gases are difficult or even impossible to obtain reliably in compressed gas cylinder form. This is because these gases are very chemically reactive. They may interact with the cylinder walls or react with other gases in the mixture. Chlorine (Cl2) is such a gas. To overcome these difficulties, has designed a gas generator that can reliably and accurately provide calibration and test gas for Cl2 at low concentrations.
List of Benefits
Housed in portable black robust carrying case with shoulder strap and supplied with 1 metre sample tubing, battery charger and manual
GazCal generating range: 0.5 – 20ppm at 1.0 litre/minute flow rate option
Low range, mid range and full range Chlorine calibration options available
The GazCal is a rugged, portable, battery-operated unit suitable for test and calibration both in the laboratory and on-site, in the field. Utilised across many industries worldwide, it is particularly popular with water authorities and for water treatment. The unit needs no warm-up time and can be operated by non-technical personnel, providing instant test and calibration source.
| Specification | Detail Description |
| --- | --- |
| GENERATING RANGE | 0.5 – 20 ppm |
| FLOW RATES | 0.5 or 1.0 litre per minute |
| CALIBRATION OPTIONS | Low range – 1ppm & 3ppm / Mid range – 5ppm & 10ppm / Full range – 10ppm & 20ppm |
| CELL LIFE | 500 ppm hours |
| POWER SUPPLY | 110V or 240V 50/60 Hz |
| DIMENSIONS | 240 x 110 x 220 mm |
| WEIGHT | 3KG |