REGULATORS
Regulators are the most essential element to use of calibration gas as they release the gas from the cylinder at a controlled rate. They also allow for the remaining fill pressure to be displayed. Regulators can either be manually operated by turning a knob, or pulling a trigger. Alternatively, regulators can release the gas when demand is placed on them, like an instrument pump for example. These are known as "Demand Flow Regulators" or DFR's.
700 Series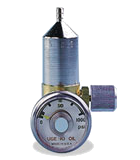 (715/ 705) - These regulators are a single stage design used for the 2AL, 8AL, 6D, 7EOC, 7HP and 5E cylinders. The 700 series regulators are preset to deliver gas at a flow rate specified by the user. The 700 series regulator may be divided into three groups.
---
1700 Series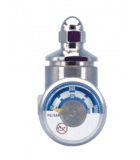 1767/1768/1781/1782: These compact single stage stainless steel diaphragm regulators are designed for use with the 2AL, 8AL and 6D cylinders. They can provide either an adjustable flow or pressure output. Typically used with low ppm reactive gases and other high purity gas mixtures. They are preset at the production facility to a user specified flow or pressure. The 1700 regulators are designed for high purity, low flow rates, and adjustable delivery pressure as required.
---
2000 Series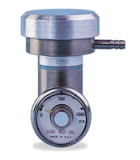 DFR 2001/ DFR 2004: The patented two stage DFR 2000 series regulator is designed for use with instruments that utilize a pump to draw the calibration gas. The regulator provides the exact amount of gas the instrument pump requires. This simple-to-use regulator makes calibration quick and easy by eliminating the need for sample bags, flow meters, or special operator training.
---
4200 Series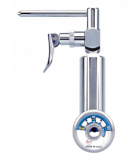 Trigger 4205/ Trigger 4206/ Trigger 4210/ Trigger 4211: The 4200 series regulator, also known as the "Trigger" is designed to provide aerosol capability. The "Trigger" can be used with the 2AL, 8AL, and 6D cylinders. Pressing the trigger activates the regulator and dispenses gas at a preset flow rate specified by the user. The trigger can also be locked in the "on" position for continuous gas flow.
---