Honeywell IAQPoint2
IAQPoint2™ puts money in your pocket and fresh air comfort into your building by using demand-controlled ventilation and triple monitoring (CO2 or VOCs, Temperature and Humidity).
List of Benefits
User-Friendly Touchscreen Operation
Menu driven, customizable, easy-to-navigate display
Large VGA screen with easy-to-read graphical display
Simple wall or duct-mount
Multi-analog or digital (BACnet, Modbus, LonWorks) options
DC and AC power; fits standard junction box
15 year sensor life with automatic self-calibration
Adjustable set-points and optional relay for local fan activation
3-in-1 Monitoring
Choose reliable CO2 or VOC sensing technologies
Optimize room comfort through temperature control
Integrates seamlessly with Building Automation Systems (BAS) via
BACnet, Modbus, and LonWorks or 4-20mA
Green Attributes – Obtain LEED credits
Meet ASHRAE 62.1 standard
Low power consumption and 'sleep mode' feature
Optimize HVAC use and extend life of components
WHY MONITOR CARBON DIOXIDE?
High levels of CO2 can cause drowsiness and create an inefficient work environment for building occupants. To combat this problem, building managers may run the ventilation system continuously, but this is an inefficient, costly practice. With AQPoint2 in place, the ventilation system runs only as needed, cutting operational costs. Digital communications (BACnet, Modbus or LonWorks) connects to a BAS, adding intelligence and control. These advantages can boost building performance and profitability.
WHY MONITOR VOLATILE ORGANIC COMPOUNDS?
Increasingly, studies show a connection between the presence of VOCs (volatile organic compounds) and adverse health effects. Commercial, educational and government buildings contain VOCs by the thousands, such as:
Organic odors, aerosols, disinfectants, cleansers (washrooms, kitchens)
Paints, waxes, cleaning supplies, pesticides ( janitorial closets)
Copiers, printers, correction fluids, adhesives, permanent markers, photographic solutions (copier/printing rooms)
Fuel cans, solvents, preservatives, automotive and vehicle products (warehouses, shipping areas)
Formaldehyde carpets (offices and office areas)
IAQPoint2 also detects methane, carbon monoxide and nitrogen dioxide.
Override feature – Reset demand control ventilation settings based on room occupancy (e.g. during off-peak hours).
Temp/rH sensor – Adjust room temperature at the touch of a button; eliminate extra IAQ devices.
Calibration Port – Connect calibration tube for fast, accurate bump test; calibrate IAQPoint2 without opening the casing.
CO2 or VOC sensor – Monitor gas concentration readings to drive demand-controlled ventilation; achieve savings and comfort by avoiding over or under-ventilation.
USB Port – Update display graphics with logo and contact information; allow future uploads of product enhancements.

THE TOUCHSCREEN DIFFERENCE
IAQPoint2's unique, patented touchscreen monitor brings leap-forward technology right to your fingertips, with benefits that extend from simplified installation and commissioning to user operation. You can set password levels and protect from tampering; configure fan activation set-points; select screen content, engineering units and language. You get control.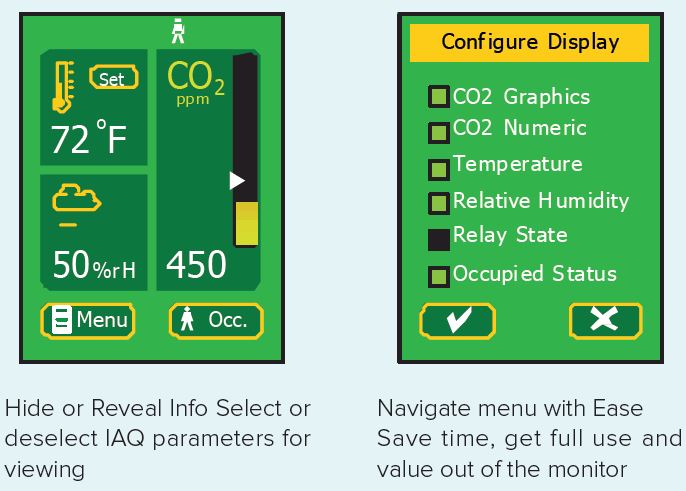 Specification
Detail Description
IAQPoint2 with CO2 Sensor
Gas
CO2
Detection Method
Non-dispersive infrared (NDIR) with ABC automatic background calibration algorithm
Range
0-2,000 ppm 0-5,000 ppm
Accuracy*
±30 ppm +3% of reading @ 25°C for 0-2000 ppm ±30 ppm +5% of reading @ 25°C from 2000 to 5000ppm
Response Time
T90 < 60 seconds
Calibration
No Calibration Required
IAQPoint2 with VOC Sensor
Gas
Voltile Organic Compounds (VOC's)
Detection Method
Metal oxide semiconductor (MOS)
Range
0-100 (400-2,000 ppm CO2 Equivalent)
Response Time
T90 < 60 seconds
Calibration
No Calibration Required
Temperature Sensor
Detection Method
Band Gap
Accuracy
±0.5°C at 25°C and 50% rH
Humidity Sensor
Detection Method
Capacitive Type
Range
0-95% rH
Accuracy
±5% at 25°C and 50% rH
Outputs
Analog
4-20 mA, 2-10 VDC fixed
Digital
Modbus RTU, BACnet MS/TP, BTL listed, LonWorks, LonMark certified
Relay
3 Amps, 250 VAC resistive, and 30 VDC SPDT; Field configurable set point &hysteresis
Override
Selectable on Display Units
Mounting Options
Wall Mount
IP22
Duct Mount
IP54
System Operation
Temperature
32° to 122°F (0° to 50°C); 32° to 104°F (0°to 40°C) for VOC Wall mount configurations
Humidity
0 to 95% rH, Non-condensing
Power In
20 to 30 VAC, 18 to 28 VDC
Consumption
200 mA @ 24 VDC
Dimensions
3.0 (w) x 4.6 (h) x 1.5 (d) in (11.8 x 7.7 x 3.7cm)
Weight
0.44 lbs (.20 kg)
Enclosure
ABS
Display
TFT, Multicolor graphical touch screen display, 1.9 (w) x 2.6 (h) in (4.9 x 6.5 cm) (Optional with Analog units)
Languages English, French for first release
Certifications
US
ANSI/UL 61010-1
Canada
CAN/CSA C22.2 No. 61010-1
Europe
CE
Warranty
1 year
*Note
Allow an additional ±2% of reading for calibration gas cylinder. With ABC enabled, allow 3 weeks for stabilization