D-Guard²R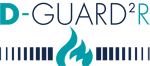 Designed from the ground up to provide reliable, accurate and flexible gas detection, the D-Guard²R incorporates leading edge technology. From the basic design philosophy that includes functional safety compatible techniques, through to the advanced functionality that provides repeatable and dependable performance. D-Guard²R is powerful, yet simple to use, making it an ideal single solution detector with low ownership cost.
List of Benefits
Built in relay board
2 Wire connection
HART 7.0 communications
Leading edge NDIR methane detection
5 year, O2 sensors
Wide range of toxic gases monitored
Ultra - Clear high resolution display
Display illumination
Full sensor temperature compensation
Integrated dynamic response testing
Timed/HART triggered sensor self-test
Continuous operating condition monitoring
Non-intrusive setup and calibration
Guided intuitive user interface
Detector isolate feature
High impact anti-static housing IP66 and IP67/IP68 certified
D-Guard²R comes standard with a built in relay board. This includes 3 relays; 2 for the low and high alarms set within the transmitter and a third for fault. This allows for a reduced system install and running cost by avoiding having to run additional wiring between other relay boards. Oxygen monitoring applications now benefit from the optional use of next-generation 5 year life oxygen sensors, giving excellent dependability and further reducing system ownership costs.
Inclusion of HART communications enables access to a greater depth of information than is possible over a basic current loop signal. Real time gas readings, diagnostic information and sensor testing are available via the HART link. Remote current loop rescaling and test mode triggering is also possible via the HART link. An optional HART communications port can be fitted to the side of the unit for less intrusive HART access.
D-Guard²R includes a high resolution ultra low power display with super clear text and graphics. The display offers visibility in low light spaces right through to use in direct sunlight. The user interface is intuitive and provides on screen guidance for carrying out calibration and configuration tasks. Sensor temperature compensation results in long term stability, accuracy and reliability. D-Guard²R continually monitors the sensor temperature and applies corrections to both the zero operating point and the response to gas, allowing the detector to remain steady under zero gas conditions and accurate when measuring gas concentration.
Response time testing functionality is integral to D-Guard²R to give a true measurement of dynamic gas monitoring performance. As standards begin to emerge requiring such testing to be carried out, D-Guard² is equipped to make the task simple. D-Guard²R has been designed to efficiently allow the use of a single board to cover all detector types and ranges for toxic gases, oxygen, flammable gases and carbon dioxide. Configuration is simple and quick via the user interface and supplied service tool with magnetic stylus built in. D-Guard²R is housed in a specialised highly impact resistant non-conductive plastic, static preventing enclosure, which is UV stable. Ingress protection includes IP66 and IP67/IP68.
Specification
Detail Description
Typical range of Gases Detected
Ammonia (NH3)
0 to 100 ppm in 1 ppm increments
Carbon Monoxide (CO)
0 to 100 ppm in 1 ppm increments
Carbon Dioxide (CO2)
0-1.5% v/v in 0.01% Vol increments
Chlorine (CL2)
0 to 10 ppm in 0.1 ppm increments
Ethylene Oxide (ETO)
0 to 20 ppm in 0.1 ppm increments
Hydrogen Cyanide (HCN)
0 to 50 ppm in 1 ppm increments
Hydrogen Sulfide (H2S)
0 to 200 ppm in 1 ppm increments
Hydrogen Chloride (HCL)
0 to 200 ppm in 1 ppm increments
Methane (CH4)
0-5% v/v /100% v/v in 0.01% or 1% increments
Methane (CH4)
0-100% LEL in 1% increments
Nitric Oxide (NO)
0 to 100 ppm in 1 ppm increments
Nitrogen Dioxide (NO2)
0 to 10 ppm in 0.1 ppm increments
Oxygen (O2)
0 to 25% in 0.1 %Vol increments
Ozone (O3)
0 to 2 ppm in 0.01 ppm increments
Phosphine (PH3)
0 to 1 ppm in 0.01 ppm increments
Sulfur Dioxide (SO2)
0 to 10 ppm in 0.1 ppm increments
Other gases and ranges
Are available on request
Specifications
Analogue output
Two wire 4-20mA
Digital Communication
HART 7.0 over two-wire loop
Indication
400 x 240 pixel Graphical Back Light LCD display
Relay Output 1
Low Alarm - Single Pole Double Throw (SPDT)
Relay Output 2
High Alarm - Single Pole Double Throw (SPDT)
Relay Output 3
Fault - Normally Energised
Input Power
10-30VDC
Response Time
Typical response T90 in less than 40 sec (Toxic) and less than 10 sec (CH4), cell dependant
Operating Temperature
-20.C to +70.C (-20.C to +55.C NDIR Version and all other variants)
Humidity Range
15-90% non-condensing
Accuracy / Repeatability
Less than AS2290.3, ANZ60079.29 and AS4641
Sensor Style
4 series sized plug in sensors
Calibration
Non-intrusive, magnetic stylus
Drift
Less than 3% signal loss per 12 months
Dimensions
120mm x 120mm x 95mm
Enclosure
Anti-static / UV stable chemical resistant Delrin
Gland
20mm nylon (IP68 Rated)
IP Rating
IP66 and IP67 (1m for 30min) IP68 (1.2m for 1.5 hrs)
Warranty
2 Years on Instrument
Sensor warranty
varies with cell