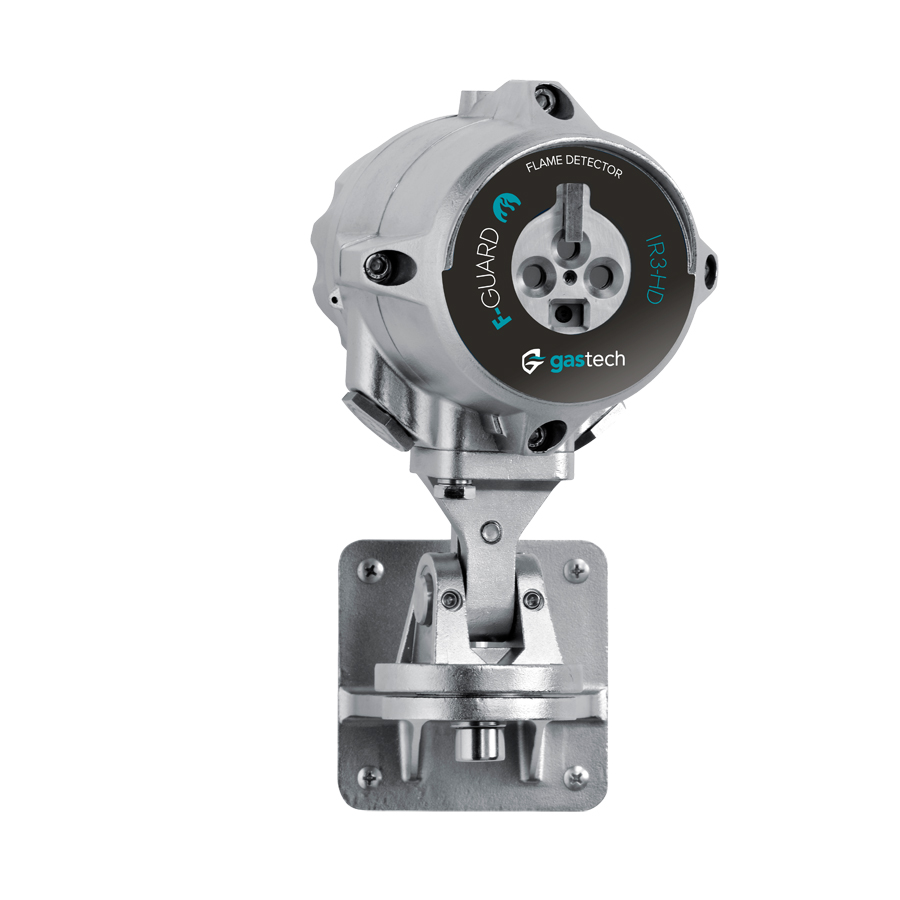 F-Guard IR3-HD
The Gastech F-Guard IR3-HD will detect fires and explosions extremely fast allowing preventative action to be initiated rapidly and thus minimizing the consequences.
List of Benefits
High immunity to false alarm
Extreme sensitivity -up to 30m or a 1 ft2 (0.1m2) n-heptane pan fire=High immunity to false alarm
Ultra-fast detection mode -detection within 40 milliseconds for fireballs or explosion
1.2 seconds detection time -for 1 ft2 (0.1m2) n-heptane pan fire at up to 50 ft. (15m) distance
HD video output with Automatic HD video recording of fire events. Data/Event logger: Alarms, faults and other relevant events are logged to non-volatile memory
Built-in-Test (BIT) -Automatic and manual self-test of window cleanliness and the overall operation of the detector
Window heater to avoid condensation and icing
Tilt mounting bracket can be connected either above or below the detector.
The Gastech F-Guard-lR3-HD flame detector provides ultra-fast response, high performance and reliable detec­tion of all types of hydrocarbon fires (visible and non-visible). The detector addresses slow growing fires as well as fast eruption of fire using improved triple IR (IR3) technology. It operates in all weather and light conditions with highest immunity to false alarms. The detector provides high-definition video output with clear imaging of fire event at up to 100 ft. (30m), allowing rescuers to know the exact situation before entering the hazardous area. It will automatically record a video of a fire event (1 min pre-alarm/ up to 3 min post-alarm). Add to that, the integral HD quality vid­eo, with event recording, on top of the proven superior capabilities of Triple IR (IR3) flame detection and you have a very powerful safety tool to protect your personnel, plant and process.
| Specification | Detail Description |
| --- | --- |
| DETECTION TIME AND DISTANCE | 40ms for fast fire burst or explosion 2.6s for 1 ft2 (0.1m2) pan fire at 0-100 ft. (0-30m) 3.7s for 1 ft2 (0.1m2) pan fire at 100-230 ft. (30-70m) |
| FIELD OF VIEW (IR DETECTION) | 90° Horizontal, 75° Vertical |
| TIME DELAY | 0-30 seconds |
| BUILT-IN TEST | Automatic and manual |
| HD VIDEO | Allows clear imaging of fire and people at 100 ft. (30m) distance |
| VIDEO RECORDING OF ALARM EVENTS | 1-minute pre-event and 3 minutes post-event |
| SYSTEM INTEGRATION PROTOCOL | ONVIF (Open Network Video Interface Forum) |
| OPERATING VOLTAGE | 24 VDC nominal (18-32 VDC) |
| CURRENT CONSUMPTION | 24 VDC nominal (18-32 VDC) |
| ELECTRICAL ENTRIES | 2x conduit entries 3/4" 14NPT or M25x1.5 |
| WIRING | 12-20AWG (2.5–0.35mm²) |
| RELAYS | Volt-free contacts rated 2A at 30 VDC Alarm – normally open and normally closed Fault – normally closed |
| INDICATION | Tri-color LED |
| MODBUS | RTU compatible on RS-485 |
| MECHANICAL SPECS | 7.87 x 5.12 x 5.12 (200x130x130mm) |
| TEMPERATURE RANGE | Operating |
| HUMIDITY | Up to 99% (RH), non-condensing |
| INGRESS PROGRESSION | IP66 & 67; NEMA 250 4X & 6P |
| APPROVALS | (Explosion proof) ATEX |
| | II 2 G D Ex db eb IIC T5 Gb -55°C |
| | IIIC T95°C Db -55°C |
| | Ex db eb IIC T5 Gb -55°C |
| | IIIC T95°C Db -55°C |
| | Class I, Div. 1, Groups B, C & D; |
| | Class II, Div. 1, Groups E, F & G;Class III |
| PERFORMANCE APPROVALS (PENDING) | ANSI FM 3260 |
| FUNCTIONAL SATEFTY (PENDING) | SIL2, per IEC 61508 |
| ACCESSORIES | Weather shield Adapters for connecting different mounts |
| WARRANTY | 5 years |