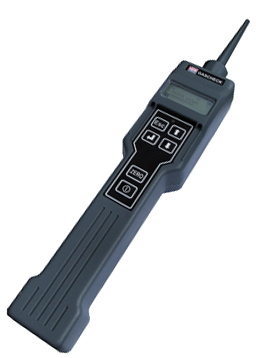 GasCheck G
Utilising an advanced micro-thermal conductivity sensor with improved sensitivity the GasCheck G delivers rapid, effective detection of leaks down to cc/sec, g/yr, mg/m3or ppm levels.
List of Benefits
Improved Micro Thermal Conductivity Sensor for enhanced sensitivity
Three new variants available; G1, G2 & G3
Choice of readings in cc/sec, g/yr, mg/m3 or ppm
New graphical icon display menu for international markets
Rapidly detects almost any known gas or gas mixture - particularly sensitive to ammonia, argon, butane, helium, hydrogen, SF6
Reliable, stable and repeatable readings
Conveniently calibrated against helium
LCD back lit display
Hand held & Robust
Designed for the search and location of gas leaks, GasCheck G has an advanced micro thermal conductivity sensor for fast, effective detection of almost any gas or gas mixture.
Robust and reliable, GasCheck G provides stable, repeatable readings of the detected gas. The instrument's LCD display, LED indicator and audible sounder clearly indicate the leak present.
GasCheck G automatically zeros to the ambient air around it when switched on and is ready to detect immediately. The instrument's new, easy to use graphical interface and intuitive keypad allows simple function, selection and adjustment.
Upgradeable throughout the range, GasCheck G is available in three distinct versions; G1, G2 and G3 with varied capabilities. Features can be easily added to upgrade the instrument without it having to be returned to the factory.
Applications:

Industrial
Quality Assurance
Manufacturing
Laboratory
Medical
Research
Models
| | | | |
| --- | --- | --- | --- |
| Feature | G1 | G2 | G3 |
| Rapid detection of gas leaks | X | X | X |
| Measures gas leaks (single gas) | | X | |
| Measures gas leaks (up to 20 gases) | | | X |
| Audible sounder | X | X | X |
| Flashing back-lit displa | X | X | X |
| Peak hold readings | | X | X |
| Factory or custom calibration available | | X | X |
| Data logging (store up to 10 readings) | | | X |
| Readings displayed in cc/sec, g/yr, ppm or mg/m3 | | | X |
| Selectable battery type | | | X |
| Upgradeable | X | X | |
Specification
Detail Description
DETECTOR
Micro thermal conductivity detector (MTCD), sensor is poison resistant with over range protection
OPERATION
Battery Type
SENSITIVITY (cc/sec)
He 1 x 10-5, CH4 5 x 10-5, R12 5 x 10-5, Ar 1 x 10-4
ACCURACY
± 5% Displayed reading ± One digit
RESPONSE
T90 = 1 second rise and clear down
SOUND
Flashing LED and 90 dBA (at 10 cm) audible sounder
CALIBRATION
Calibrated to UKAS/NIST standards
DATA LOGGING
10 data points with date and time stamp
FLOW RATE
2 cc/min
TEMPERATURE
Operating
Storage -20 to +70°C, -4 to 158°F
Humidity 0 to 99% RH (non-condensing)
WEIGHT & DIMENSIONS
Instrument with probe 390 x 60 x 49 mm, 15.5 x 2.3 x 1.9"
Case 420 x 320 x 97 mm, 16.5 x 12.5 x 3.8"
Instrument 0.45 kg, 1 lb, Packed 1.6 kg, 3.5 lb