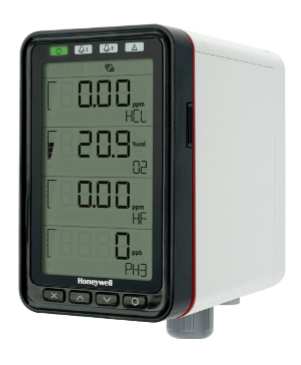 Midas M
Bringing new visibility, reliability, and ease-of-use to gas detection in semiconductor processing and industrial manufacturing.
List of Benefits
Clear Visibility - equipped with bright LED's
Calibration Completed - Factory calibrated
Easy Installation - Compact in size, great for crowded environments
POE protocol
Integrated security
The device monitors points up to 30 meters (100 feet) away while using patented technology to regulate flow rates and ensure error-free gas detection. The standard power supply and communications capabilities include three onboard relays (Form C), 0 mA to 21 mA analog output, and Modbus®/TCP Ethernet digital outputs for easy connectivity to control and alarm systems' ports for optimal connectivity and service interaction. With flexible features and options, the Midas-M Gas Detector works right out of the box and configures easily to meet your needs. Each plug-and-play sensor cartridge is pre-calibrated, so it's ready when you are. That means longer sensor life, quick-and easy replacement, and no operator error due to incorrect or depleted sensors. With the Midas-M Gas Detector, customers can get extended sensor calibration periods, patented diagnostics, and lower cost of ownership. APPLICATIONS • Semiconductor processing • Light industrial manufacturing • University laboratories • Aerospace • Wastewater Please contact us for a datasheet.
Specification
Detail Description
SIZE
136 mm (H) x 83 mm (W) x 152 mm (D) (5.35 in x 3.27in x 5.98 in)
WEIGHT - TRANSMITTER
1.3 kg (2.87 lb)
WEIGHT - CARTRIDGE
0.17 kg ~ 0.22 kg (0.38 lb ~ 0.49 lb) dependent on sensor type
OPERATING VOLTAGE
24 VDC Nominal, -15 to 10% (20.4 VDC to 26.4 VDC)
OPERATING VOLTAGE WITH POWER OVER ETHERNET
48 VDC PoE (IEEE 802.3af compliant)
TRANSMITTER UNIT (NORMAL CONDITION)
Typ. 5 W
TRANSMITTER UNIT (FULL LOAD CONDITION)
≤ 11.45 W
TRANSMITTER WITH OPTIONAL RELAY
≤ 12.9 W
VISUAL
Alarm, Power, Fault LEDs, and LCD with all the gas readings and events. LEDs
RELAYS IN TRANSMITTER
(3) Relays for Alarm 1, Alarm 2 and Fault rated 1.0 A @ 30 Vdc or 0.5 A @ 125 Vac Max 10 uA @ 10 mV minimum, configurable as normally open or closed, latched or unlatched
ANALOG
3 wire sink, 3 wire source, or 4 wire fully isolated; 0 mA to 21 mA for each channel
DIGITAL COMMUNICATIONS
Modbus/TCP Ethernet/Power over Ethernet (PoE)
CERTIFICATION
CE marked Meets EN 50270
PERFORMANCE
Refer to individual sensor datasheets
FLOW RATE
600 mL/min
FLOW TIME
OPERATING TEMPERATURE
0°C to 40°C (32°F to 104°F)
WIRING EQUIPMENT
4-20mA or CAT5 cable or equivalent