testo 320
The new testo 320 is a high-quality measuring instrument for efficient flue gas analysis. Its wide measuring range makes it a reliable partner for eliminating malfunctions and emergencies, monitoring legal limit values or for daily routine work servicing heating systems.
List of Benefits
High resolution graphic display
Sensor monitoring
Fast sensor zeroing
User changeable sensors
Modular components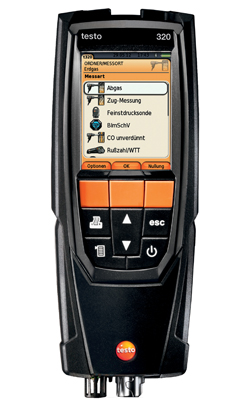 The numerous measurement menus of the testo 320 are clearly structured. Standarized menu procedures, which are stored in the instrument specifically for your country, simplify operation – depending on which standards you are dealing with. The high-resolution display allows a detailed presentation of the measurement procedures and is easily legible even under the worst conditions.
KEY FEATURES
High-resolution colour graphic display
The measurement menus and measurement values are presented in detail and always easily legible.
Sensor monitoring
Integrated traffic light system which continuously monitors the sensor functionality.
Fast sensor zeroing
Automatic zeroing of gas sensor in only 30 seconds after start up, which can be cancelled if not required.
Sensors exchangeable by the user
Easy exchange of sensors by the user – no adjustment necessary.
Memory
Up to 500 measurement protocols can be saved and called up in the memory of the testo 320.
Lithium battery
Operation with a Lithium battery (1500mAh) – no battery change necessary, up to eight hours running time, charging via USB connection possible.
Attachment
Integrated magnets for fast attachment to burner/boiler.
Stamp of approval
The flue gas analyzer testo 320 is TÜV-tested according to EN 50379, Parts 1-3.
Robust Design
Robust, durable instrument – ideally suited even to rough surroundings.
Condensate trap
Integrated condensate trap – very easily emptied.
Efficient exchange of probes
Fast and easy exchange of probes via the probe coupling. All gas paths are connected to the instrument at once with the bayonet connection.
Flexibility with modular probes
A range of probe lengths and diameters ensure a high degree of flexibility for all applications. To exchange the probe shaft, it is simply placed on the probe handle and engages.
Probe filter
Easy exchange of probe filter.