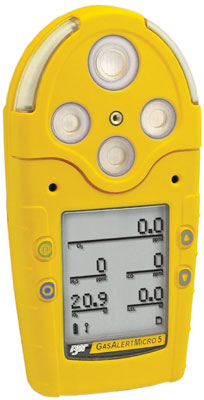 GasAlertMicro5 Series
Simultaneously monitor and display up to five atmospheric hazards with the GasAlertMicro 5. Adaptable to a variety of applications, the GasAlertMicro 5 has an extensive selection of user-settable field options and is available as either a standard toxic gas model, or an IR model for CO2 detection. Use the passcode function to prevent unauthorized modifications of the instrument's settings.
List of Benefits
Measure up to five atmospheric hazards concurrently
Fully customizable to suit any application
Rapidly switch from diffusion mode, to the optional integrated pump in the field
Protect yourself
Compatible with BW's MicroDock II automatic test and calibration system, the GasAlertMicro 5 is unparalleled in its versatility, performance and overall value.
Standard Features

Continuous LCD shows real-time gas concentrations
Water-resistant
Automatic calibration procedure; compatible with BW MicroDock II automatic test and calibration station
Full function self-test of sensor, battery status, circuit integrity and audible/visual alarms on start up
Bright wide-angled visual alarm bars
Built-in concussion-proof boot

Additional GasAlertMicro 5 Features

Integral motorized pump option for remote sampling
Equipped with internal vibrating alarm for high noise areas
Two power options: AA alkaline or rechargeable hotswappable battery packs
Multi-language support in English, French, German, Spanish and Portuguese
| Specification | Detail Description |
| --- | --- |
| Size | 5.7 x 2.9 x 1.5 in. / 14.5 x 7.4 x 3.8 cm |
| Weight | 13.1 oz. / 370 g |
| Temperature | -4 to +122°F / -20 to +50°C 14 to +104°F / -10 to +40°C (PID) |
| Humidity | 0% - 95% RH (non-condensing) |
| Alarms | Visual, vibrating, audible (95dB) - Low, High, STEL, TWA, OL (over limit) |
| Tests | Sensor integrity, circuitry, battery and audible/visual alarms on activation, battery (continuous) |
| Pump | Optional; Sample from up to 66 ft/20m |
| User options | Confidence beep, Set STEL interval, Set TWA method, Sensor on/off, Latching alarms, Safe display mode, Stealth mode, Adjust Clock, Set datalogger rate, Passcode protection, Correction factor library (LEL, PID), Fast pump, Combustible gas measurement (% LEL or % by volume methane), O2 auto calibration on start up, Automatic backlight, Sleep mode, User-settable calibration gas level, Calibration due lockout, Daily bump test, Language choices (5), High resolution |
| Ratings | EMI/RFI |
| Certifications and approvals | CSA Class I, Div. 1, Gr. A, B, C, D IECEx: Ga Ex ia IIC T4 ATEX |
| Warranty | Full 2 year warranty including sensors (1 year NH3, Cl2, O3, ClO2+PID Lamp) |