The Research & Development function of Gastech has two primary operations:
Development of in house products and associated software packages
Technical overview of Application and Project Engineering based products
The team has been built around the core disciplines required for gas detection engineering – electronics, software, mechanical and certification. Its structure consists of an R&D Manager who is also the electronics and certification engineer, two mechanical design engineers and a software engineer. Collectively the team holds over 100 years of development experience, with almost half of that focused purely on gas detection.

Product development projects are initiated by a brief from Marketing which has been created solely with the user experience in mind. The team utilises an agile approach to engineering, giving them the ability to respond to market trends and produce equipment with relevant technology to solve the issues users face not only today, but tomorrow.

Extensive investment has been made in the resources R&D uses, allowing them to create and print highly detailed 3D models, conduct electronics design simulations and qualify software performance. Our mechanical engineers have the immense joy of using state of the art mechanical simulation tools, allowing testing for robustness against the different physical stresses placed on an instrument - before it even gets created in a mould. This ensures the knowledge that by the time the product makes it to the tooling stage, it will consistently give high performance under real-world load conditions.

Do you have a specific application that could be solved with a gas detection based product? Please enquire here so we can discuss your requirements further and potentially see the creation of a new Gastech product!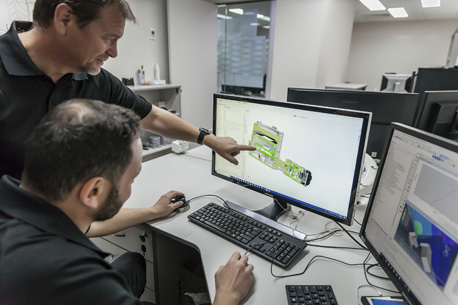 Investing in research is investing in the future.