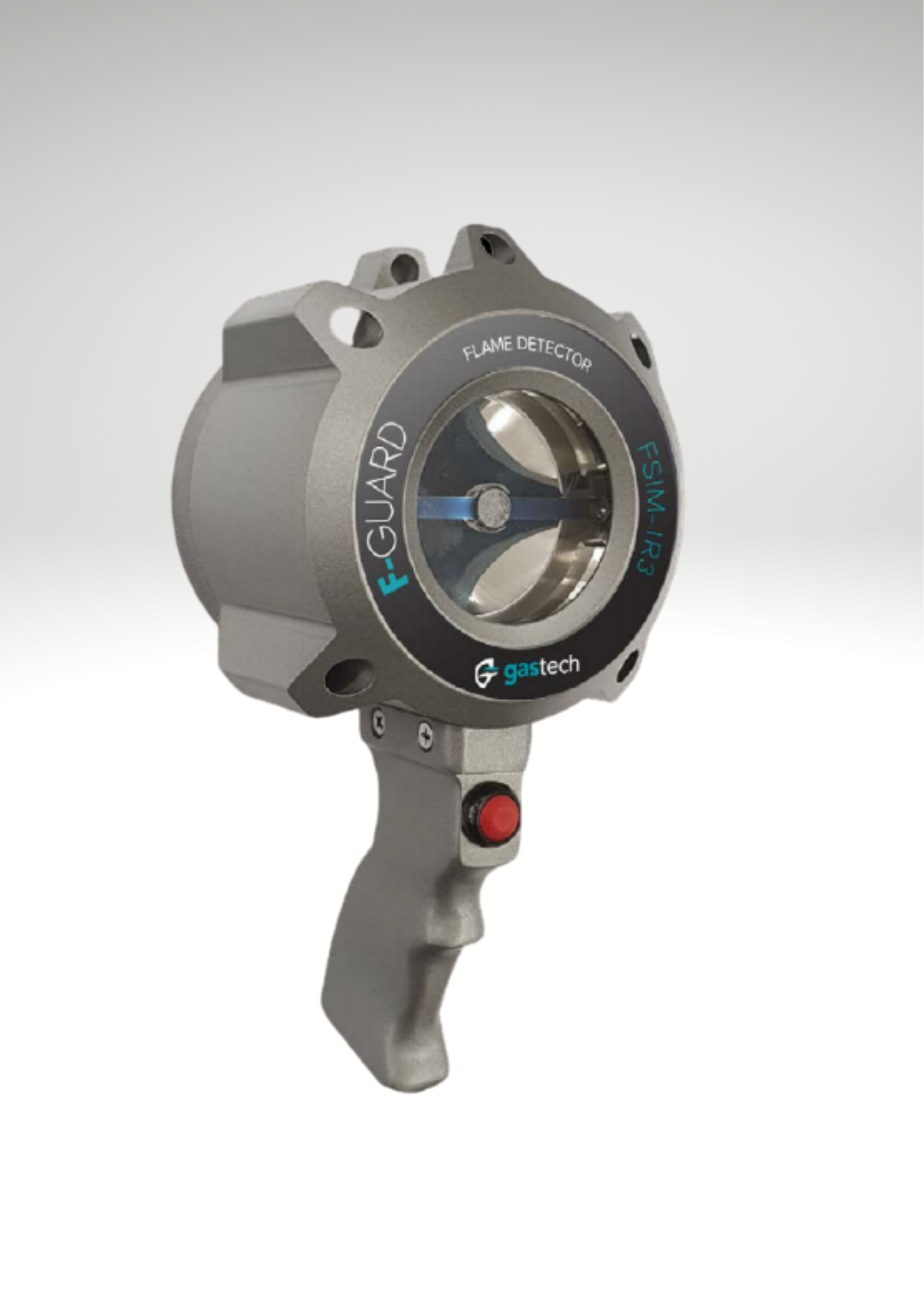 F-Guard FLS/IM
The F-Guard Flame Simulator provides fas and convenient detector verification in the field.
List of Benefits
Complementary to F-Gaurd Detector inbuilt test features
Enables full end to end system test
Inexpensive, lightweight and simple to use
Reduced initial cost and ongoing maintenance costs.
Activation of test from up to 23 feet (7 meters).
Reduces the need for scaffolding.
Hazardous area use approved.
No time-consuming hot work permit required.
More than 1,000 activations between charges.
Ready to use when you are.
Includes carrying strap, protective storage case, battery charger and operating instructions.
Easy to transport and supplied with everything you need.
Flame simulators are often used by industry to perform detector testing during commissioning and periodic system testing. The F-Guard simulators are inexpensive, lightweight and straightforward to use. The modern ergonomic design, with alignment markers, allows accurate, fast and convenient detector performance verification. Suitable for use in hazardous areas, the simulators can be used at distances of up to 23.0 feet (7.0 meters) from the detector. Three different models are available for testing each type of F-Guard Detector (IR3, IR3-H2 and UV-IR) All F-Guard flame detectors perform automatic self-tests of their optics, windows, electronics and software. Additionally, the F-Guard flame detectors can be manually put into alarm via the FGD communicator software or by short-circuiting the "Manual BIT" terminal and the "24 VDC (-)" terminal for one second. The F-Guard flame test simulators are designed to complement these inbuilt features by providing an entirely external loop test capability.
| Specification | Detail Description |
| --- | --- |
| SIZE | 3.9 x 3.9 x 7.8" (100 x 100 x 200mm) |
| WEIGHT | 1.8KG |
| ENCLOSURE MATERIAL | Painted Aluminum LM25 |
| INGRESS PROTECTION | IP65 (NEMA 4X) |
| HUMIDITY | up to 99% (RH), non-condensing |
| OPERATING TEMPERATURE | -20°C +50°C |
| EXPLOSION PROOF | ATEX Ex II 2 G Ex db ib op is IIC T6 Gb Ex II 2 D Ex tb ib op is IIIC T85°C Db |
| CARRYING CASE | FLS-FSIM-CASE |
| CARRYING STRAP | FLS-FSIM-STRAP |
| COVER TOOL | FLS-FSIM-TOOL |
| ALLEN KEY | FLS-FSIM-ALLEN |
| BATTERY CHARGER | FLS-FSIM-CHRGR |
| SPARE BATTERY | FLS-FSIM-BATT |
| WARRENTY | 3 years |