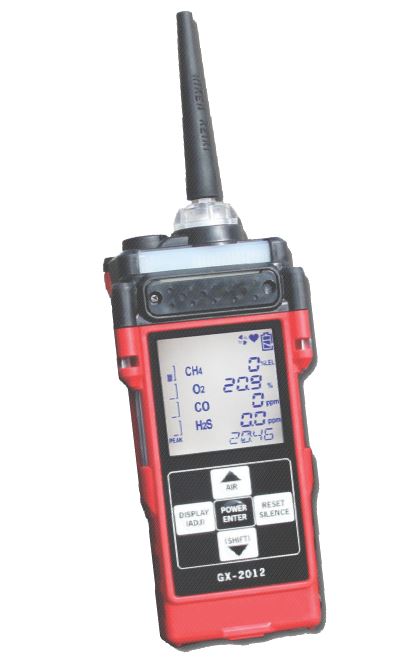 GX-2012
The GX-2012 is the newest state-of-the-art Gas Detector and our smallest personal 5 sensor gas monitor with a built-in sample pump. Specially designed for the LNG / Pipeline industry in Australia, the GX-2012 fills the need for a monitor with the dual capabilities of two operating modes: Normal (for confined space) and Bar Hole.
List of Benefits
Monitors LEL, % Vol Methane, O2, CO and H2S
0 to 100% Vol Methane option
Auto-ranging display of % LEL and % volume
Internal sample drawing pump with up to 15 metre range
Vibration, visual, and audible alarms
Automatic backlight during alarms
Calibration reminder with lock out option
Monitoring the standard confined space gases (LEL combustibles, Oxygen, Carbon Monoxide and Hydrogen Sulphide), the GX-2012 also measures 100% vol Methane and dynamically displays either % LEL or % Vol with its auto-ranging ability. The GX-2012's large LCD display shows all gas readings, battery level and current time, and will automatically backlight in alarm conditions. Standard alarm types include vibration, visual and audible alarms that can be set to latching or non latching. Controlled by a microprocessor, the GX-2012 continuously checks itself for sensor connections, low battery, circuit trouble, low flow and calibration errors. The GX-2012 can interchangeably operate on either a Li-ion battery pack or an alkaline battery pack. The batteries are simple to replace requiring no tools to access the removable battery compartment or pack. Calibration and bump test intervals and reminders are user adjustable and can be set to either go into alarm or to lock the user out of normal measurement mode once a calibration period has expired. Calibrations can be performed automatically or individually in single calibration mode. The GX-2012 is also compatible with the economical SDM-2012 single channel calibration station.
Key Features
Quick charge (complete charge in 90 minutes)
Glove friendly large buttons
Alarm latching or non-latching
High impact protective rubber overmolding
Up to 600 hours of datalogging with alarm trends
Autocalibration or single calibration
TWA and STEL readings with lunch-break mode
Specification
Detail Description
See specification document in Downloads section.