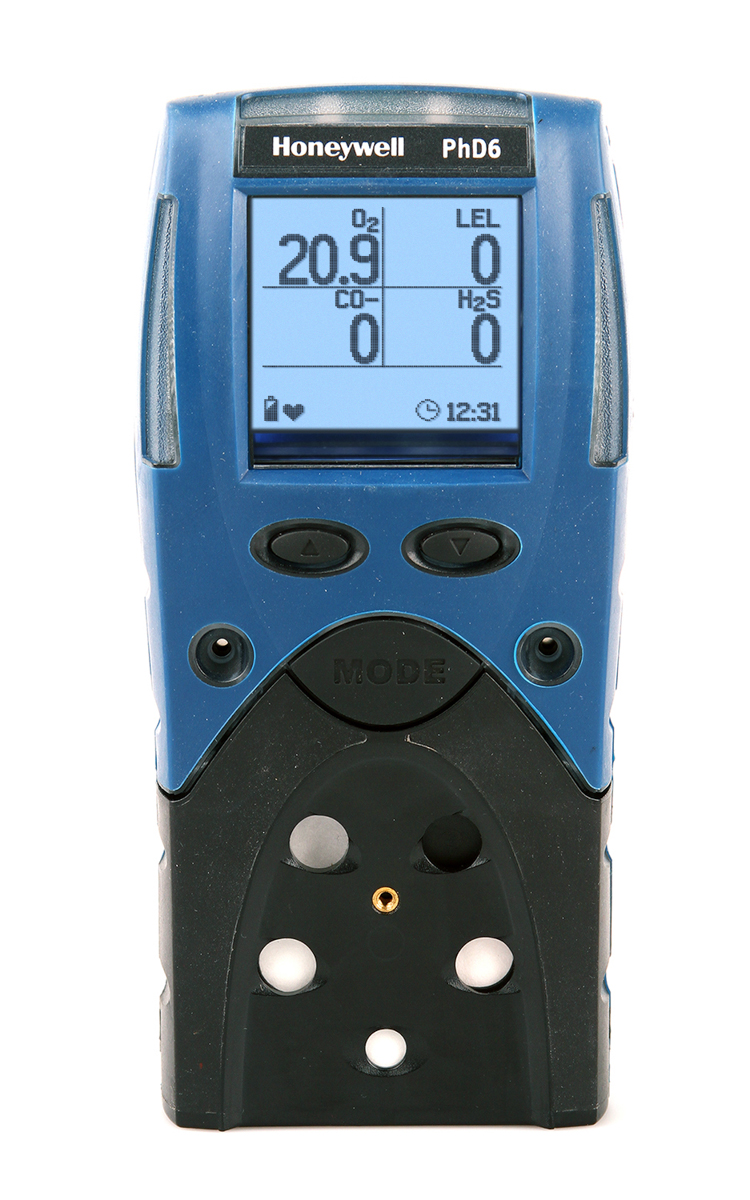 PHD6
PHD6 is a state of the art multi-gas detector. It's the most configurable gas detector of its time with 5 sensor ports, up to 6 channels of detection, and 18 sensor options including electrochemical, LEL, PID and Infra-Red. Very reliable and sophisticated while maintaining the ease of use that you've come to expect from us. Day-to-day detector operations are controlled entirely through the simple multibutton user interface
List of Benefits
5 Sensor Ports and 16 Sensor Choices
PID Sensor Option
Infra-Red Sensor Options
Durable Exterior
Interchangeable Battery Packs
Audible Alarms That Stand Out!
Visible Alarms
Status Bar With Easy To Read Symbols
IQ Dock Compatibility
Menu-Driven Instrument Configuration
The PHD6 is a state of the art multi-gas detector. It's the most configurable gas detector of its time with 5 sensor ports, up to 6 channels of detection, and 18 sensor options including electrochemical, LEL, PID and Infra-Red.
The PHD6 to be reliable and sophisticated while maintaining the ease of use that you've come to expect from us. Day-to-day detector operations are controlled entirely through the multi button user interface.
A status bar on the display with easy-to-recognize icons gives the user immediate access to everything from time to calibration status. Built-in and easy-to-navigate menus give advanced users the ability to configure the detector in the field.
The PHD6 is constructed of an engineered polycarbonate frame with rubber overmould, making it both tough and easy to handle. Power comes from interchangeable alkaline or Li-Ion rechargeable battery packs with run times as long as 22 hours. A manual sample draw kit is included and an optional motorized sample draw pump is available.
Key Features
5 SENSOR PORTS AND 16 SENSOR CHOICES
With 16 sensor choices, including PID, IR-CO2, IR-CH4, conventional LEL, oxygen and 12 different toxic gas sensors including Duo-Tox, the PHD6 can be configured for just about any use.
PID SENSOR OPTION
PID sensor monitors for hundreds of known VOCs.
INFRA-RED SENSOR OPTIONS
Choose from CO2 or Methane Infra-Red gas sensors.
DURABLE EXTERIOR
The PHD6 is enclosed in a solid polycarbonate case with a TPE (rubber) overmould, so it's both tough and easy to handle.
INTERCHANGEABLE BATTERY PACKS
Both Li-Ion and Alkaline battery packs offer up to 24 hour run times.
AUDIBLE ALARMS THAT STAND OUT!
The new audible alarms in the PHD6 are unlike anything you've ever heard from a gas detector – and rated at 92 dB.
VISIBLE ALARMS
Front and side mounted LED alarms are highly visible.
STATUS BAR WITH EASY TO READ SYMBOLS
Let the user know the status of the instrument. A heartbeat symbol beats every 5 seconds to let you know that the instrument is functioning normally. Calibration due is shown with a gas cylinder icon coupled with a triangular warning symbol.
IQ DOCK COMPATIBILITY
Reduce labor costs, automate record keeping and save calibration gas all at the same time with the IQ6 Dock.
MENU-DRIVEN INSTRUMENT CONFIG
Select from the Main Menu or the Basic Menu. Access all instrument configuration options from alarms setting to
BUILT-IN IRDA PORT 
Every PHD6 includes a built-in IrDA port that allows the instrument to be configured with a PC. The IrDA port also allows instruments to be downloaded in the field to retrieve data on calibrations and exposure levels.
CERTIFICATIONS


SGS USTC Class I Division 1 Groups A, B, C, D Temp Code T3C (Approved to UL-913).
ATEX (DEMKO) Ex d ia IIC 150° C (T3).
IECEx Ex d ia IIC 150°C (T3).
CSA Class I Division 1 Groups A, B, C, D Temp Code T3C.
NEPSI (Chinese) Approval Ex d ia IIC 150°C.
| Specification | Detail Description |
| --- | --- |
| 5 Sensor Ports and 16 Sensor Choices | With 16 sensor choices, including PID, IR-CO2, IR-CH4, conventional LEL, oxygen and 12 different toxic gas sensors including Duo-Tox, the PHD6 can be configured for just about any use. |
| PID Sensor Optionpid | sensor monitors for hundreds of known VOCs. |
| Infra-Red Sensor Options | Choose from CO2 or Methane Infra-Red toxic gas sensors. |
| Durable Exterior | The PHD6 is enclosed in a solid polycarbonate case with a TPE (rubber) overmould, so it's both tough and easy to handle. |
| Interchangeable Battery Packs | Li-Ion battery pack runs for up to 22 hrs. Alkaline battery packs also available. |
| Audible Alarms That Stand Out | The new audible alarms in the PHD6 are unlike anything you've ever heard from a gas detector – and rated at 92 dB. |
| Visible Alarms | Front and side mounted LED alarms are highly visible. |
| Status Bar With Easy To Read Symbols | Let the user know the status of the instrument. A heartbeat symbol beats every 5 seconds to let you know that the instrument is functioning normally. Calibration due is shown with a gas cylinder icon coupled with a triangular warning symbol. |
| IQ DOCK Compatibility | Reduce labor costs, automate record keeping and save calibration gas all at the same time with the IQ6 Dock. |
| Menu-Driven Instrument Config | Select from the Main Menu or the Basic Menu. Access all instrument configuration options from alarms setting to |
| Built-In Irda Port | Every PHD6 includes a built-in IrDA port that allows the instrument to be configured with a PC. The IrDA port also allows instruments to be downloaded in the field to retrieve data on calibrations and exposure levels. |
| Certifications | Class I Division 1 Groups A, B, C, D Temp Code T3C (Approved to UL-913). ATEX (DEMKO) Ex d ia IIC 150° C (T3). IECEx Ex d ia IIC 150°C (T3) CSA Class I Division 1 Groups A, B, C, D Temp Code T3C. NEPSI (Chinese) Approval Ex d ia IIC 150°C. |