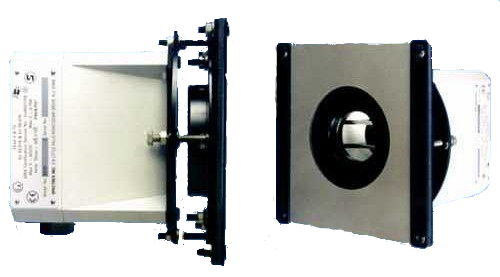 SafEye Duct
The Duct SafEye Open Path was specially designed and is widely used to monitor and alarm against ingress of hazardous gas concentrations into air intakes of turbine engines and HVAC air ducts.
List of Benefits
Proven technology
High sensitivity
Fast response
Harsh environment
Low maintenance
Standard interface options
Formation and migration of gas clouds and their possible penetration into safe places, control rooms, turbine engines, etc. is a substantial risk that needs to be addressed.
Users, designers, safety and operational engineers are increasingly required to provide for adequate and fast detection and alarm to protect these hazards.
The specific system's design for duct applications requires that the small path across an air inlet responds with a very high sensitivity, full scale of 1 LEL.m for 2-6.6 ft. (0.6-2 m) wide inlet and full scale of 2.5 LEL.m for 6.6-23 ft. (2-7 m) wide inlet.
The Duct SafEye, due to its special optics design, provides for a misalignment tolerance of ±2° in all directions and is protected against false gas reading and alarms which are caused by partial obscuration and blocking, misalignment, vibration, flexing or tilts.
Each SafEye unit is factory calibrated in a temperature cycle run at the entire operating temperature range. The temperature compensating mechanism allows correct operation in changing and extreme temperatures while maintaining the system's accuracy. Its internal microprocessor will automatically compensate for low signals with its internal Automatic Gain Control (AGC).
Key Features
Proven Technology

Used in air ducts on FPSO's and offshore rigs for British Petroleum (BP), Shell and ABB Lummus for turbines air intakes etc.
High Sensitivity

Alarm up to 0.5 LEL.m
5 Times more sensitive than the normal Open Path equipment
Fast Response

Fast response time of 2 seconds (300 series) and ultra fast response of 1 second (200 series).
5 to 10 times faster than commonly used Open Path, 20-50 times faster than Point Detector.
Specially designed to perform under extreme conditions such as high-speed airflows, high temperatures (up to 158˚F (70˚C)), humidity and corrosive gases, where point detectors may not be effective.
High reliability, simple installation, alignment and maintenance, equipment not subject to poisoning.
Standard Interface Options
Standard 4-20 mA outputs or RS-485 output to allow networking (up to 64 detectors) to a central monitoring/PC system. This feature also enables easy maintenance, local and remote diagnostic tools.
Applications
Offshore Oil & Gas Exploration Oilrigs and FPSOs
Onshore Oil & Gas Terminals
Storage Farms and Filling Stations
Petrochemical and Chemical Industries
Power Utilities and Turbines areas